1.For BOM
Please fill in designators(references), quantity, package and part numbers. For resistors or capacitors, if there is no part number, then value and package information is needed. It's also better list components as PTH or SMD.
We do not accept BOM files in pdf because it's not convenient for us to do component-sourcing and is also not easy to avoid mistakes in file conversion. Check our example BOM for reference.




BOM Template file
2.Necessary information to assemble components with orientation and polarity
Please add polarity cathode or anode mark and pin 1 in silkscreen layer.
If you do not want this information to be printed on the board, please send an individual assembly drawing file including those information to us.If the direction is different from the PCBWay convention, it needs to be clarified with us. Otherwise, we need to confirm with you again during the assemble process, which will waste time.

Here are some common practices at PCBWay factory, for example:
a. LED:By default, we usually use a dot, bar mark "I", sharp corners or "匚" on the silk screen layer to represent the negative electrode of the LED.
b. Tantalum capacitors and aluminum electrolytic capacitors: If there is a color band marking or "+" marking, it indicates the positive electrode of the capacitor.
c. Inductors: If there is a dot or special mark on the inductor, it indicates the polarity.
d. Chips: Identify the 1st pin according to the special mark.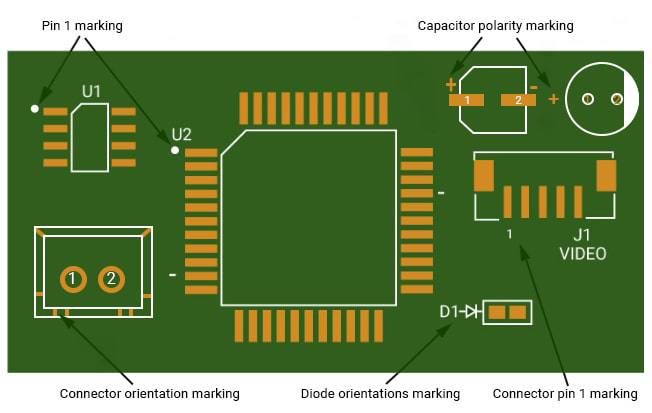 Our sales will contact you for confirmation if we meet any questions
3.Pick&place/centroid file
We need completed pick&place file/centroid file including all the designators/references same as the ones in BOM, THT designators can be excluded. And designators in pick&place file should match the designators in silkscreen layer or assembly drawing file.
4.PCBA material preparation specifications
PCBA material preparation specifications:
Serial number: PCBWay20181230-01
Date: December 30, 2018
1. Thank you for choosing to cooperate with PCBWay. In order to achieve our common goals, both parties must comply with the following material preparation specifications.
2. For each material that needs to be mounted, it is necessary to reserve a blank tape with a length greater than 50mm before it can be installed on the machine for production. Regardless of whether 1PCS or 1000PCS is produced, there will be 10-20PCS for each material to be removed to make enough space for the loading feeders,as shown in Figure 1. Figure 2 shows that the original factory has left enough blank length for the entire roll of packaging materials. (materials larger than 1206 size need to be manually patched after the materials are removed)
Figure 1: Each material on the placement machine needs to be removed 10-20PCS tape to reserve enough blank length.
Figure 2: The length of the blank tape has been reserved.
Figure 3: Materials installation.

Serial number
Material type/name
Specifications
Material picture example
Quantity 1-20 PCS
Quantity 20-1000 PCS
Quantity >1000 PCS
Quantity >5000 PCS
Materials with a delivery date of more than 3 days must have the quantity of spare parts.
Figure 1
Figure 2
Figure 3
Figure 4
Quantity of spare parts
Quantity of spare parts
Quantity of spare parts
Quantity of spare parts
1
SMD: resistor/capacitor/inductor
01005-0805
>10 PCS
>50 PCS
5%
5‰
20 PCS
2
SMD: diode/transistor/Row resistor
SOD523-SOD123 (0603-0805)
>5 PCS
>20 PCS
2%
3‰
20 PCS
SOT23-SOT26
>5 PCS
>20 PCS
2%
3‰
20 PCS
SMA-SMC(2010- 3220)
>3 PCS
>10 PCS
2%
3‰
10 PCS
3
SMD: coil inductance/aluminum solution capacitor/crystal oscillator
>2 PCS
>5 PCS
2%
3‰
5 PCS
4
SMD IC
SOP6-SOP16
>2 PCS
>3-5 PCS
1%
3‰
5 PCS
QFN8-QFN16
>2 PCS
>3-5 PCS
1%
3‰
5 PCS
BGA4pin-BGA16pin
>2 PCS
>3-5 PCS
1%
3‰
5 PCS
IC with over 16 pins
0
>2 PCS
0.5%
0.5‰
1 PCS
5
Connectors
>2 PCS
>5 PCS
1%
3‰
5 PCS
6
DIP components
1/16-1W
>2 PCS
>10 PCS
1%
3‰
5 PCS
7
Others
>2 PCS
>10 PCS
1%
3‰
5 PCS
8
Materials that are out of stock and need to be ordered, and the unit price is less than $1, must be prepared according to the maximum number of spare parts;Materials with a unit price greater than $1 must be prepared according to the minimum number of spare parts and indicate the value of the material and the delivery time.
More details: Check our SMT FAQs page